Already in the 60's SPV was a well known name when it comes to threading. Several of these products are just as popular today although we now have some new models and features. We are delighted to offer these popular products of the highest quality still today.
Here you can find information about our various models, features and functions that are available.
Our different models of tapping devices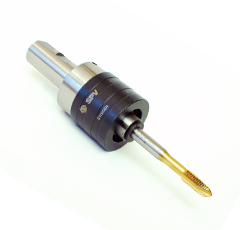 CGS
Our model CGS is a short and compact tapping device, suitable for most applications.
Adjustable thrust pressure
Hard pressure helps the tap to start cutting directly on contact
Internal cooling manages up to 50 Bar
Ball bearing axial movement (floating) eliminates the spindles axial forces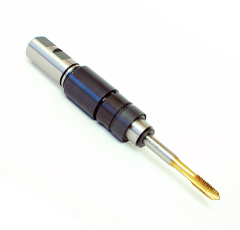 STF
The SlimTapper-series consists of devices that are suitable for applications where you are limited by space.
Slim design
Short backward floating (2mm)
Internal cooling that manages up to 50 Bar
Combined with our Weldon-extensions you get a long and slim tapping device with high precision.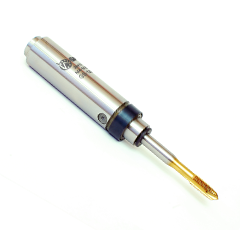 GS
The tapping-spindle type GS has an infinitely adjustable floating which makes it possible to thread with different pitch even in multi-spindle applications.
Slim design
Infinitely adjustable floating, forward and backward
A variety of combination possibilities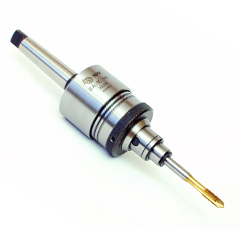 SA
Tapping device model SA is our most flexible model. It has a built-in adjustable torque clutch that trips when reaching the set torque.
Powerful and stable design
Infinitely adjustable torque-clutch
Adjustable thrust pressure (NC)
Wide tapping-range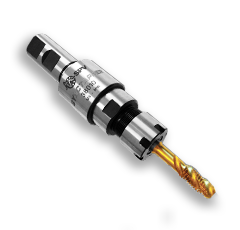 SyncTapper
Synctapper is the newest addition to our tapping assortment. A stable tapping device with high precision for "Rigid Tapping".
Slim design
Extra hard mini-floating (0,5mm)
Clamping-collets type ER
Combined with our Weldon-extensions you get a long and slim tapping device with high precision.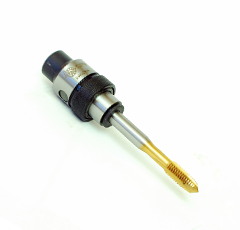 C-chuck
The C-chuck is av very compact quick-change chuck for tapping. It is available in various sizes and you can change the tool quick and easy thanks to our tapholders with quick connection for the tap.
Adapted for J or B-taper
Short and compact
Quick tool-changes
With the help of our tapholders you can quickly and easily replace the tool in your tapping unit. Our tapholders also enables a very good retention of the Tap.
The tapholders are available in different models. Type T, which is our standard tapholders, type TC for cooling along the tap and type TK with the built-in torque clutch./p>
Not sure which one is best for you? Contact us and we will help you. It is good if you are prepared and know what dimensions you have on the tap shank and square.
Type T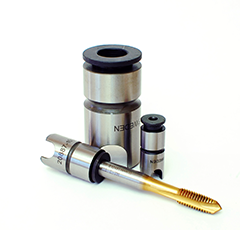 Type TK