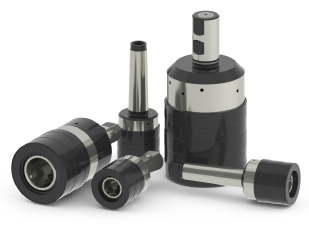 Our model type CGS is a short and compact tapping device which is suitable for most applications. CGS is available with multiple shanks, such as Weldon, Morse taper etc. CGS-C is designed for machines with coolant through and manages up to 50 Bar of coolant pressure. Thanks to the generous floating, the CGS-device protects the threading tap from wear that results in incorrect threads.
Adjustable collaring pressure
High collaring pressure helps the tap to start cut instantly on material contact
Internal cooling that manages up to 50 Bar
Ball bearing axial movement (floating) eliminates the machine spindle's axial forces
It seems we can't find what you're looking for.